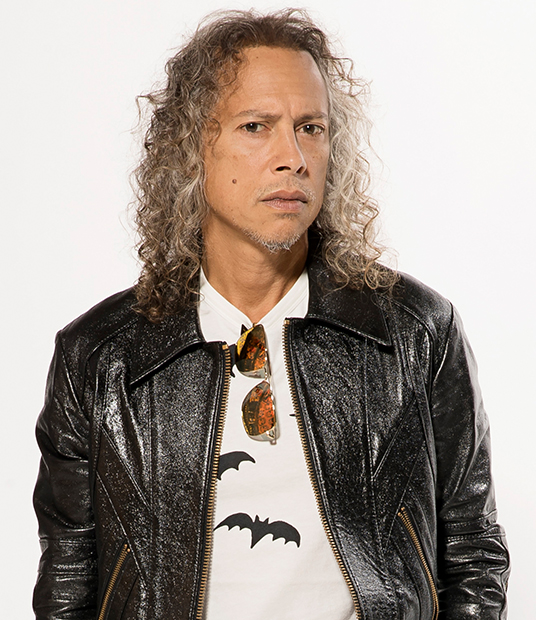 Kirk Hammett
Writer: Nights of Lono / Foreword for Shudder's Creepshow: From Script to Scream
Kirk Hammett is well known for two things: combining his love of horror with his passion for music.
Born in San Francisco in November 1962, he quickly found himself obsessed with watching monster movies as well as reading books and comics. Transitioning to the teenage years meant taking up guitar and teaching himself how to play by ear for hours on end.
While music has been a large part of Kirk's life since joining Metallica in 1983, horror has been creeping around in his shadow even longer.
While Kirk has contributed to books such as Ross Halfin's Metallica, Scott Ian's I'm The Man and Joel McIver's To Live is to Die, horror films and comic books have fueled his desire to create and write in genres that branch out and away from his main musical universe. In 2012 Kirk released his influences with the Abrams Image book, Too Much Horror Business. This encompassed his vast collection and reflected on the artwork, stories behind the acquisitions and love of the genre.
Pulling some key pieces of horror and highlighting his collection, Kirk created Kirk Von Hammett's Fear FestEvil conventions, which was held in 2014 and 2015. In 2017, the It's Alive! Classic Horror and Sci-Fi Art from the Kirk Hammett Collection exhibition started in Salem, Massachusetts, a more carefully curated retrospective of the entire Kirk Hammett Collection. This collection has travelled to the Royal Ontario Museum in 2019 and the Columbia Museum of Art in 2020.
Following this into the world of comic books and graphic novels is a new endeavor that is both challenging and exciting; a direction to showcase a whole other side to his love of supernatural folklore.
AMC Networks Publications: