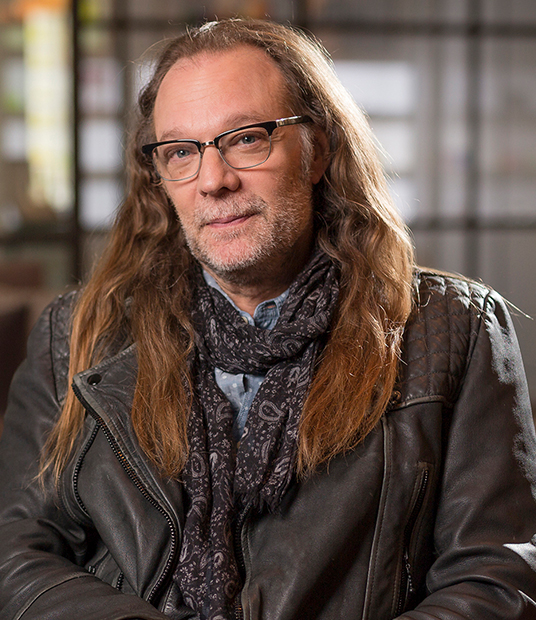 Greg Nicotero
Executive Producer: Shudder's Creepshow: From Script to Scream
Entering his 36th year in the industry, Greg Nicotero has never forgotten his roots. Growing up in Pittsburgh in the 70's, it never occurred to this young movie and special effects buff that Hollywood was literally in his backyard. Auteur director George Romero would be the first of many to recognize something in Nicotero and forge a relationship of collaboration as a special effects make-up artist.
Within two years he was in Los Angeles working with Sam Raimi, James Cameron, and Wes Craven on landmark films such as Evil Dead 2, Aliens, and the A Nightmare On Elm Street series. The climate that embraced practical make-up effects allowed Nicotero to partner with Howard Berger. Together they created the longest running effects house in Hollywood, The KNB EFX Group, Inc. Founded in 1988 and still as vital as ever, Nicotero and his team have worked on nearly 700 film and television programs that stretch through cinema as a who's who of horror, science fiction, and thrillers. With titles such as Reservoir Dogs, Spawn, The Mist, Scream, and Sin City, this unique troupe of artists have brought life to stories and characters of all kinds, while innovating and perfecting their craft.
Partnering with directors such as Frank Darabont, Steven Spielberg, Quentin Tarantino, and Robert Rodriguez, Nicotero fine-tuned his craft as an effects artist and gradually moved into providing 2nd unit direction on several feature films. After a stint on a number of movies across the globe, including Inglourious Basterds, The Book Of Eli, Predators, and Transformers, Nicotero found himself in 2010 designing zombies for the AMC series, The Walking Dead. Within months he'd become the producing director on the hit show and to this date has directed more than 30 episodes of the series.
His work on The Pacific, The Walking Dead, and Breaking Bad have garnered him nearly a dozen Emmy nominations and four wins. As the zombie epic entered its tenth season, Nicotero debuted his new series Creepshow, an anthology comprised of terrifying tales inspired by the original 1982 film of the same name. He is the Executive Producer/ Showrunner and also directed multiple segments for the show.
Nicotero also had a hand in producing Fear The Walking Dead and The Walking Dead: World Beyond, while supervising make-up effects for HBO's The Watchmen and Quentin Tarantino's Once Upon a Time in Hollywood.
AMC Networks Publications: